Marine Propeller Anti-Foul
LANOLENE™ MARINE Admiralty Grade Grease has proven invaluable to the Marine Industry. Preservation of exposed base metals in saline environs been its forte. LANOLENE™ MARINE Admiralty Grade Grease is especially useful as an underwater exposed metal coating.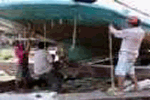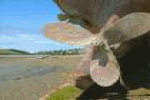 Technical Application Guide Ref:LMTGP01A
Msds: Grease - LMGMD01A
Msds: Solution - LMSMD01A

BENEFITS
NON-TOXIC
NON-LEACHING
PH (6.8) NEUTRAL
ORGANIC
BARNACLE RETARDANT
NON-CARCINOGENIC
REMAINS ACTIVE
ANHYDROUS
UNDERWATER RE-APPLICATION
ALGAL INHIBITOR
IMPROVES HYDRODYNAMIC GLIDE
EASY SERVICING
NON-EVAPORATING
ACID & ALKALI RESISTANT

APPLICATION:

1. Clean Propeller/ Fittings back to base metal.

2. Preferably heat Bronze to between 80°C and 130°C (175°F - 265°F), enough to minimise heat transfer to shaft bearings @ 110°C (230°F) maximum.

3. Apply LANOLENE™ MARINE Admiralty Grade Grease or Spray Solution directly onto hot components liberally, using a drip tray to retain runoff. LANOLENE™ is now bonded to metal substrate.

4. Once cooled, apply a good liberal and even coat of LANOLENE™ MARINE Admiralty Grade Grease to Propeller, Shaft, Skeg, and Rudder prior to vessel, going into water.

5. Apply LANOLENE™ to Bear Shaft and Nut threads. Ideally, a thick coating of LANOLENE™ MARINE Admiralty Grade Grease wherever anti-seize and anti-fouling coatings are normally applied to underwater fittings.

6. Continual use of LANOLENE™ MARINE Admiralty Grade Grease at regular service intervals will enhance preservation properties.

7. Typical service life (re-application) for Propellers - if applied as per these instructions in line with normal slipping timeframes.
a. Low usage of Vessel 2-3 months
b. Medium usage of Vessel. 6 months
c. Heavy usage of Vessel. 12 months

8. LANOLENE™ MARINE Admiralty Grade Grease is ideally suited to Propeller duties with a shaft speed of 1200 RPM or less. More frequent applications by the bare Prop performance buff will be required, for Propeller shaft speeds in excess of 1200 RPM.

9. Once Pre - treated with heat, propeller cleaning and re - application of LANOLENE™ MARINE Admiralty Grade Grease may be done underwater to interservice and prolong slipping schedules.

10. LANOLENE™ MARINE Products will not stop attachment totally, however it will drastically retard bacterial attachment ability. If vessel is moored for long periods an extended high speed run will assist to dislodge algle and shell growth. LANOLENE™ MARINE performance, like all anti-fouls, is governed by prevailing water bacteria levels, vessel grounding, and ambient water temperatures. You may notice growth attachment, however if used as per these instructions you will find removal easy. On slipping, usually a pressure blast is sufficient for cleaning, prior to reapplication.