Marinex for Wire Rope Cables
LANOLENE™ MARINEX delivers excellent lubrication, strand and core preservation of Steel wire ropes. LANOLENE™ MARINEX is especially useful for marine cable preservation and service life extension.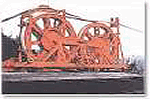 Technical Application Guide Ref: LMXCBL1
Msds: LMXMD01A

BENEFITS
ORGANIC PASSIVATE
CORROSION INHIBITOR
HERMETIC STRAND & CORE ISOLATION
ACID / ALKALI & SALINE RESISTANT
PH 6.8, ANHYDROUS
NON-EVAPORATING
ELECTROLYSIS & GALVANIC RESISTANT
NON-TOXIC
NON-LEACHING
REMAINS THERMALLY ACTIVE
NON - FLAMMABLE
32kV/rms DIELECTRIC
LONG SERVICE LIFE
ANTI-BACTERIAL
EASY APPLICATION & CLEAN UP.

APPLICATION PROCEDURE:

1. Brand New Cable, proceed to step 2. Previously used cable, should be clean within reason, as LANOLENE™ MARINEX is compatibly blended with most mineral, inorganic and organic coatings and lubricants.

2. Allow cable to dry thoroughly and preferably heat up latently ie. 60°C to 100°C (140°F to 212°F) in direct sunlight or artificial heating. It is essential that no moisture is present prior to initial application, thus maximizing LANOLENE™ MARINEX Bond yield to base metal also, ensuring best attainable exclusion of moisture from Cable Core,(the main cause of core-out unseen corrosion).

3. LANOLENE™ MARINEX may be applied by brush, roller, spray gun (feeds well at low pressures), Easy application by sparingly pouring directly from can onto Spooled Cable. When spraying, always wear appropriate safety equipment, respirator, goggles, gloves, coveralls etc. refer to Material Safety Data Sheet for emergency & safety procedures.

4. No thinning required.

5. Application Rates - Multi Strand (General) Steel Wire Rope:
a. 5mm (1/8") - 10mm (3/8") @ approx. 25ml / 1 metre
b. 10mm (3/8") - 20mm (7/8") @ approx. 50ml / 1 metre
c. 20mm (7/8") - 30mm (1 1/4") @ approx. 100ml / 1 metre
d. 30mm (1 1/4") - 40mm (1 5/8") @ approx. 150ml / 1 metre
e. 40mm (1 5/8") - 50mm (2") @ approx. 250ml / 1 metre

6. Re-application is based on "as required" schedule. Always best with no moisture present, however, if initial treatment is carried out with heat as prescribed above (top up coats may be applied to displace any interstrand moisture without the need for total drying), excellent results when applied via pressure fed lubrication collars approx. 0.5 kg/cm (5 psi) in ambient temperatures >15°C (>60°F).

7. LANOLENE™ MARINEX Solution is Non-toxic, Non- Leaching and Non-flammable.

8. Clean up with Degreaser, Turpentine, White Spirit or Steam Pressure Blaster.

9. Organic LANOLENE™ MARINEX preservation lubrication properties make it ideally suitable for low speed, low heat, low cycle rate cables i.e. Marine Industry.

Not to be used for High heat, high speed / cycle cables.

LANOLENE™ is a registered Trademark. Licensed to and manufactured by EXCEL EQUIP Pty. Ltd.