Refrigeration and Air Conditioning
LANOLENE™ Industrial Coatings are a natural choice in the preservation of air conditioning ducting and associated building ancillaries. From Chilled Water pumps to Storage tanks and fittings, Evaporator towers and valve service. Exceptional performance on all components constructed of dissimilar metals, excellent results have been achieved in the reduction of galvanic action at usual condensate and seam joints.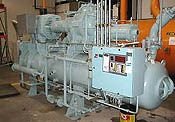 Technical Application Guide Ref: LICTG06A
Msds: Solution - LICMD01A
Msds: Grease - LICMD01A

BENEFITS
ORGANIC PASSIVATE
ENVIRONMENTALLY FRIENDLY
ACID & ALKALI RESISTANT
BASE METAL PENETRANT & PROTECTOR
ELECTROLYSIS, HYDROLYSIS & GALVANIC ACTION RESISTANT
PH NEUTRAL (6.8)
LONG TERM PROTECTANT
ANTI-SEIZE
NON-TOXIC, FITTING & DISASSEMBLY AID
EASY CLEAN-UP
32kV/rms DIELECTRIC
NON-LEACHING
NON-CARCINOGENIC
REMAINS THERMALLY ACTIVE

APPLICATION:

1. All Oxidised points to be wire brushed clean preferably, however if inconvenient, LANOLENE™ Industrial will penetrate with thermal cycling and displace corrosion at base metal.

2. Apply LANOLENE™ Industrial Solution directly to all joints, seams, bolt, screw and rivet points. Also, wherever Corrosion is occurring.

3. Do Not apply LANOLENE™ Industrial Coatings to Air Conditioning Ducting Internals. Use only on Externals.

4. Checking and Re-application is advised every 2 to 4 years. Depending on severity of conditions.

5. Exceptional Performance achieved at all Dissimilar Metal Fittings, simply apply to mating components prior to assembly. (i.e. Stainless Steel/Aluminium).

6. LANOLENE™ Industrial Grease is an ideal joint anti-seize / anti-gall for all Copper Pipe fittings, allows flared fittings to remain free eliminating "twisting" on disassembly.

7. LANOLENE™ Industrial Solution applied to TX Valve Body and Capillaries (Do Not coat Bulb) will exclude moisture and oxidisation, which, due to high thermal cycling rates are a major cause of failure to these components.

8. A coat of LANOLENE™ Industrial Solution, maintains pumps, fittings, and electric motors corrosion free. Exceptional results have been achieved on all components associated with Air and Water delivery and circulation on buildings in Seaside areas.

9. Clean-up with hot water pressure wash, degreaser, prepsol, kerosene etc. After standard preparation practices components may be painted.

Keep a Cool Service Head Naturally with LANOLENE™ INDUSTRIAL COATINGS.

LANOLENE™ Solution is Flammable and remains so up to 1 hour after application.

LANOLENE™ Grease is non-toxic and non-flammable.